Wellness within wilderness
The Kipling Lodge, Ranthambore
The Kipling Lodge is a pet friendly boutique
luxury forest resort close to Ranthambore
National Park featuring colonial inspired decor, carefully manicured lawns, cottage style villas, a fully functional wellness centre and an open air swimming pool aiming to promote holistic health & well being in an escape amid Nature!
The Kipling Lodge is a pet friendly boutique luxury forest resort close to Ranthambore National Park featuring colonial inspired decor, carefully manicured lawns, cottage style villas, a fully functional wellness centre and an open air swimming pool aiming to promote holistic health & well being in an escape amid Nature!
Situated just 10 km from the Ranthambore tiger reserve & The Fort and 14km from the Sawai Madhopur railway station, this property is very conveniently located. Covered with lush green fields on three sides it's truly a haven for peace, nature and wildlife lovers.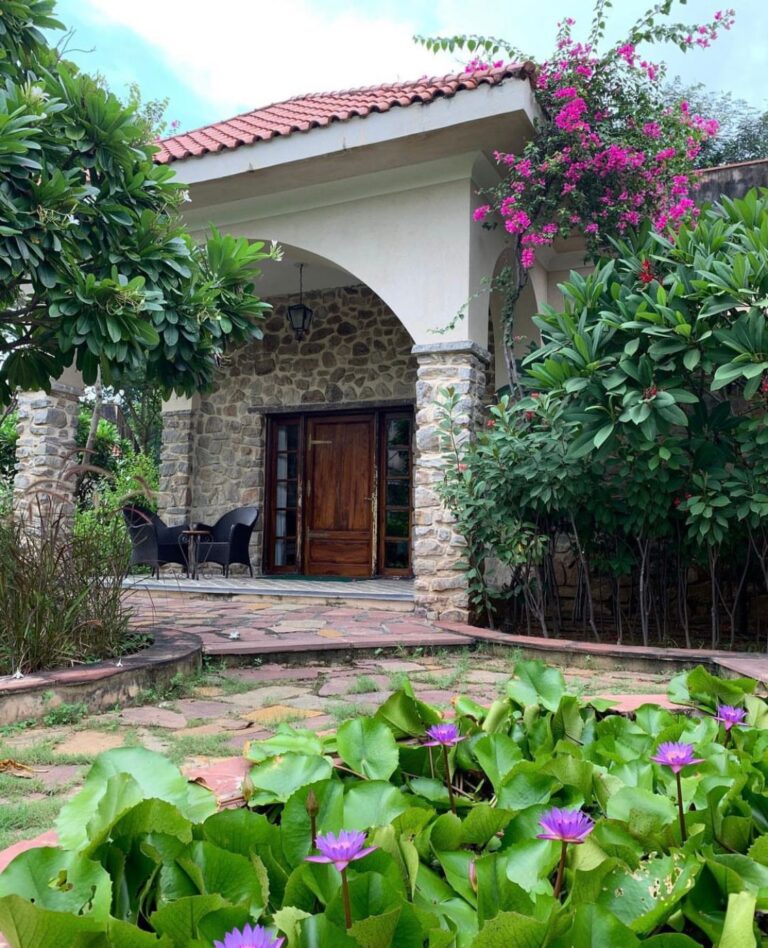 The resort has 16 villas including suites each of which exudes distinctive charm and offers unparalleled privacy.
Our architecture blends seamlessly with nature, embracing minimalism. Spacious, luxurious interiors and large bathrooms ensure absolute comfort. Private front sit-outs and backyards extend living quarters, immersing you in the forest's sights and sounds. Common lawns with trees, lotus ponds, and birdsong create a captivating backdrop. Each room offers unique amenities like open showers or spacious terraces. Select villas feature private jacuzzi pools for ultimate luxury. Our resort's biophilic design integrates natural elements, fostering harmony with nature. Every aspect, from materials to windows, promotes well-being and a deep connection with the surrounding wilderness.
Escape the digital world and embrace simplicity at our boutique property. Take a refreshing dip in the pool, lose yourself in a book from our library, savor tea in the peaceful backyards of your room, indulge in an open-air shower, stroll through lush lawns with your furry friends, enjoy yard games with family, wake up to the melodies of Ravanhattha and experience the grandeur of a royal entrance through drums and our famous foot rituals.
Honestly, less is more and we'd encourage you to do nothing other than relax once at Kipling, although we do have a lot of activities which can help you de-stress:
Pool
Dive into blissful relaxation at our pristine pools. Enjoy invigorating swims, soak up the sun on comfortable loungers, and savor refreshing drinks from our restro bar.
Pottery
Mould, shape, and create exquisite pottery pieces guided by skilled local artisans. Let your artistic talents flourish in a serene and opulent environment, where clay becomes a canvas for your imagination.
Folk Music
Experience the rich cultural heritage through enchanting performances, live music, and traditional rhythms. Let the harmonies transport you to a world of nostalgia & joy.
Master Chef Experience
Embark on a culinary journey with our MasterChef Experience. Learn the art of cooking from our head chefs, unleash your creativity, and savor the joy of crafting exquisite dishes.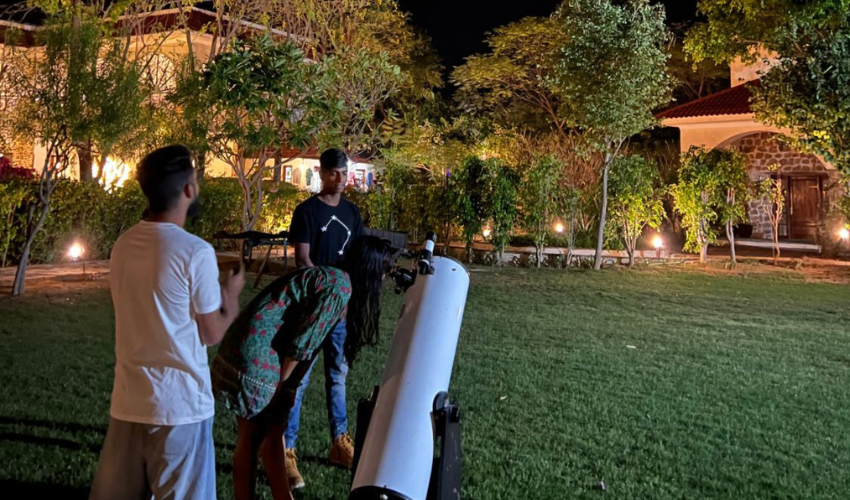 Astronomy
Embark on a celestial journey and Gaze at the sparkling night sky through state-of-the-art telescopes, guided by expert astronomers.
Nature Kalp Spa
Immerse yourself in serenity with rejuvenating treatments, soothing massages, and tranquil ambiance. Let our expert therapists pamper you, leaving you refreshed, revitalized, and ready to embrace pure bliss.
Picnic
Indulge in a picturesque picnic at our resort. Relish in a gourmet spread amidst stunning surroundings, as nature's beauty enhances your experience. Unwind, connect, and create unforgettable moments, surrounded by opulence and tranquility.
Screenings
Enjoy various screenings at the resort whether it be ipl, your favourite movies or our staple- the documentary on machli, queen tigress of ranthambore. Witness the majestic creatures on the big screen, unravel their untamed world, and deepen your understanding of their conservation.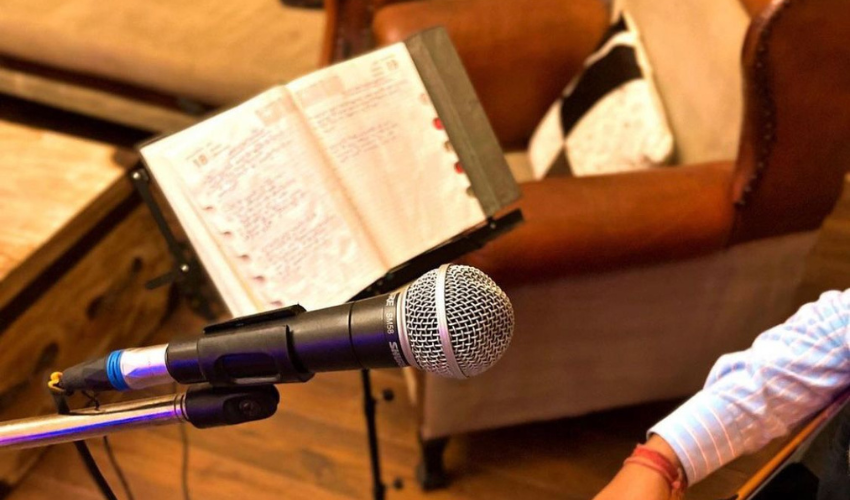 Live Singing
Enjoy captivating performances by talented vocalists, serenading you with melodies that touch the soul. Let the power of music elevate your stay.
Bonfire
Gather under the starlit sky, surrounded by the crackling flames, and indulge in s'mores and captivating stories. Unwind, connect, and create lasting memories as you bask in the cozy ambiance of bonfires either in your room backyards or the resort community firepit.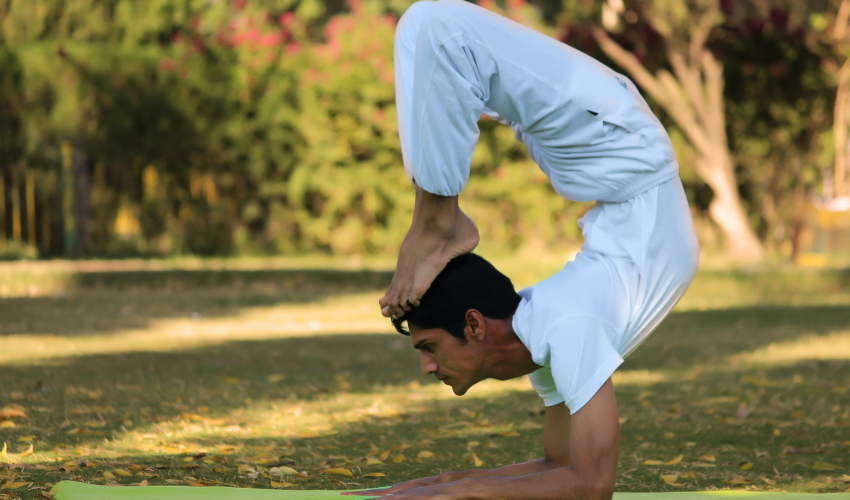 Meditationa & Yoga
Discover inner peace with our complimentary meditation and yoga sessions where instructors guide you through gentle movements and mindful breathing. Rejuvenate your body and mind amidst the serene surroundings of our resort, fostering harmony and holistic well-being.
Bird Watching
Discover over 80 awe-inspiring species in their natural habitat. Involve yourself in the beauty of colorful feathers, melodious songs, and nature's symphony. A paradise for bird enthusiasts awaits your arrival.
If you're an adventurous explorer seeking more than just relaxation, Ranthambore has a plethora of activities to quench your thirst for adventure. Alongside the renowned tiger safari and Trinetra Ganesh Temple, there are many other attractions worth adding to your itinerary. Ranthambore awaits you with open arms, ready to provide an unforgettable experience beyond your expectations.
Tiger Safari
Experience the thrill of witnessing the Royal Bengal Tigers in their natural habitat, one of the top activities in Ranthambore National Park. Capture wildlife photographs and birdwatching moments. Explore the dense jungles, hills, and wildlife with open-sided six-seater jeeps or canter safaris on 20-seater open buses providing a comprehensive tour of the park's 10 eco-tourism zones, including sightings of leopards and a lot of other animals and birds.
Crocodile safari
Chambal Gharial Sanctuary is a new must-visit spot for Ranthambore tourists. Embark on thrilling Chambal River safaris through boat rides immersing in the rich ecosystems and capturing scenic views of diverse birdlife, crocodiles, and Gharials.
Trinetra Ganesh Temple
Located within Ranthambore Fort, Trinetra Ganesha is a revered temple showcasing Lord Ganesha's three-eyed form. Legend has it that the deity blessed King Hameer, resolving his problems and ending a war. This ancient temple, featuring idols of Lord Ganesha's family, is a must-visit in Ranthambore, with daily aartis conducted 5 times a day.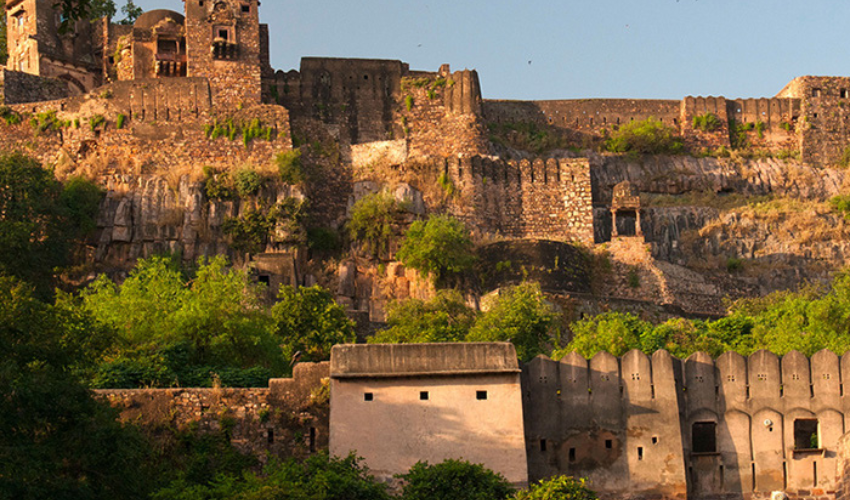 Ranthambore Fort
Discover the historic allure of Ranthambore Fort, a prominent attraction within the national park. Once a hunting retreat, this World Heritage Site showcases the valor of Hammir Dev and offers breathtaking views amidst lush forests. Explore nearby valleys, lakes, picnic spots, and wildlife, immersing in the fascinating history and changes of the fort over time.
Surwal Lake
Discover tranquility at Surwal Lake, a serene retreat amidst natural beauty. Capture stunning photographs and indulge in bird-watching as diverse species flock together for prey. The lake offers a breathtaking view, particularly at sunrise and sunset, but visit during the monsoon or winter as it might be dried out in summer.
Dastkar Village
Visit Dastkar Ranthambore, a women's self-help initiative offering high-quality, handmade cloth bags as an alternative to plastic. Support their mission to protect the environment by reducing plastic waste. Choose from a variety of sizes, colors, and captivating patterns featuring wild animals, birds, and forest creatures, appealing to both locals and tourists.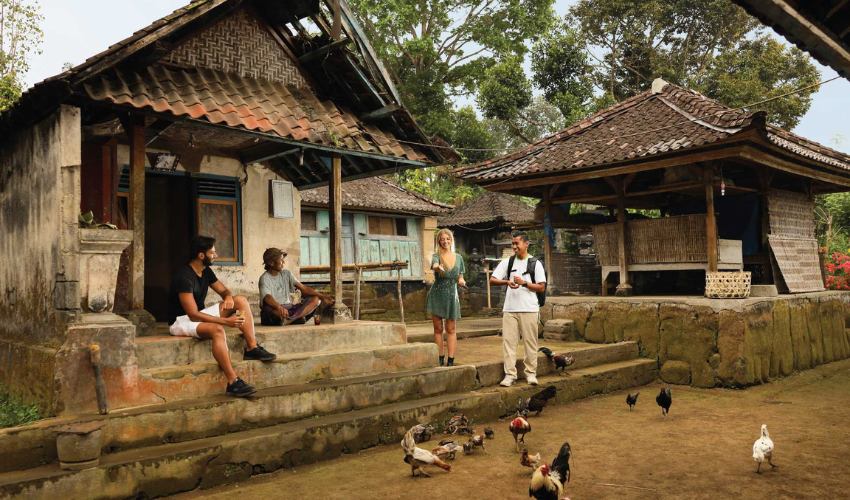 Village Tour
Discover charming villages in Sawai Madhopur, surrounded by hills and a pleasant ambiance. Witness the resilience of villagers in challenging conditions. Admire decorative sketches, explore folk arts, and find local crafts. Interact with hospitable villagers to gain insights into their lives and traditions.
Ranthambore school of Art
Immerse yourself in the artistry of Ranthambore's School of Art. Showcasing exquisite paintings of Rajasthan's wildlife, this haven near Sawai Madhopur station promotes conservation. Witness diverse artworks, including watercolors and silk paintings, by talented students from nearby villages. Experience prestigious exhibitions that inspire awe and raise awareness about biodiversity.
Women Handicrafts
Immerse yourself in the vibrant culture and craftsmanship of Rajasthan at the Women Craft Village in Ranthambore. Inspired by the passion and skills of Rajasthan's women, this village showcases traditional crafts, jewellery, and dresses. Visit to witness the artisans' work and acquire exquisite pieces of art at affordable prices.
Hot Air Balloon
Experience the awe-inspiring adventure of hot air ballooning in Ranthambore, offering breathtaking views of the lush green landscape below. From mid-September to March, soar above the majestic jungle, spot tigers, leopards, and exotic birds. Capture the postcard-perfect scenery with your binoculars and cameras, creating unforgettable memories.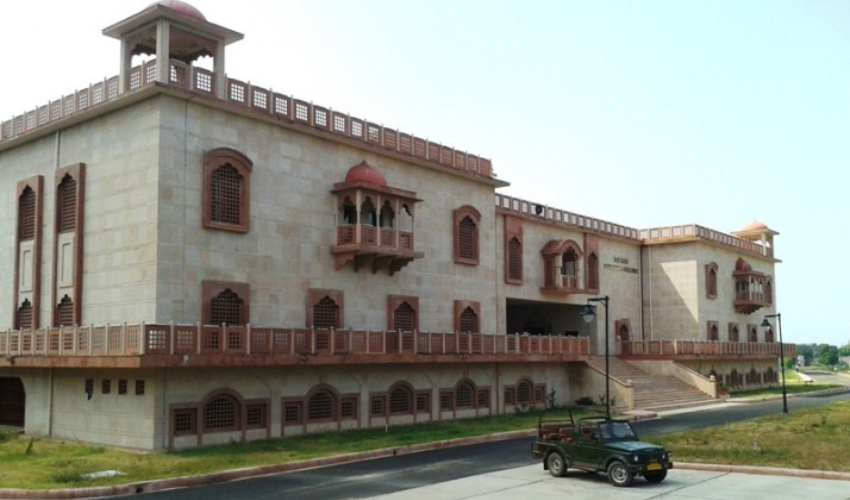 Rajeev Gandhi Regional Museum
Explore the Rajiv Gandhi National Museum, Sawai Madhopur, India's fourth regional museum of natural history. With exhibits showcasing rare plants, animals, and geology of Western India, it creates awareness about preserving biodiversity. Discover the fascinating diversity of Rajasthan's forests and wildlife, including lifelike animal replicas and village dioramas of the Bishnoi community.
Welcome to Kipling Lodge, your wilderness retreat in the heart of Ranthambore. Celebrate amidst wildlife wonders, where our Serene Resort and Nature seamlessly blend, enchanting every picture with untamed beauty. Unleash unforgettable moments in nature's embrace.
Embark on an extraordinary journey of love as we craft a fairy tale wedding, where every detail radiates romance, creating cherished moments that will forever dance in your hearts.
Ignite your special day with boundless joy and delightful surprises, as we curate a birthday experience beyond imagination
From Holi to Diwali, Christmas to New Year, and every occasion in between, we revel in celebrations. With tailored treats and events, we invite you to join in the festivities at our resort. Come, celebrate with us!
Elevate your team's potential amidst breathtaking natural surroundings, where Detailsivity and inspiration converge in our bespoke corporate offsite experience.
Indulge in a celestial rendezvous, as soft candlelight dances to the rhythm of your hearts, igniting a whimsical culinary affair.
Wedding anniversaries hold profound significance, especially those landmark years like the 10th, 20th, 30th, and 50th. Allow us to elevate the occasion as we meticulously craft an extraordinary event and deliver impeccable services for you and your cherished guests.
At Nature Kalp, we go above and beyond to make your special occasions and celebrations truly unforgettable. Alongside our exceptional amenities and stunning surroundings, we offer an exclusive in-house design service that adds a personalized touch to your events. Our talented team of designers will create custom placemats, menus, itineraries, table setups & room or outdoor décor ensuring every detail reflects your unique style & vision and elevates your special days. We leave no stone unturned in crafting an extraordinary experience and who doesn't enjoy customized settings done to make them feel important, just as they are.
Dream08312571344
2023-05-25
Comfort at Kipling Wonderful experience and stay at the Kipling Lodge. Would definitely come again for the delicious brownie with ice cream and captivating ambience. Absolutely adored the hospitality and the way I was welcomed into the lodge.Keep up the great work!
Safari51018360638
2023-05-25
Great experience Excellent service, i could feel real peace in the ambience and food was delicious. The property is huge and well spread out. The lobby is basic but overlooks a fab expanse of space. There is a big pool, Children's play area. visiting back again soon
Roving04622338462
2023-05-25
Kipling for an extended comfort stay Kipling Lodge is one of the finest properties in the heart of Ranthambhore. A must to stay with family & friends. The delicious food & extended warmth of its staff is one of a kind. The lodge arranged for our safari & woke us sharp at 5 am with tea.To get ready in time. No doubt, the ambiance is splended & rooms are equipped with best amenities one can desire for. Kipling is a must to visit. Payal Chandana
Navigator13897398578
2023-05-25
Wonderful stay at KIPLING Splendid stay at KIPLING LODGE... The food was scrumptious and the staff were very helpful.... Enjoyed High T while admiring the amazing view from the Lodge... Will definitely visit again for the delicious food and for wonderful hospitality....
Best service i have ever seen Let me rate it on every aspect: 1. Overall Ambiance: 102.Rooms: 103. Cleanliness: 104. Bathrooms: 10 (yes, that spacious) 5. Food: 106. Staff service: 11And the best part is that the resort is pet friendly. And i mean really friendly.I would suggest anyone planning to visit Ranthambore should stay here and enjoy the hospitality redefined by Kipling Lodge.
Peaceful very well managed place It is a very peaceful and beautiful resort which is very well run. People in restaurant were courteous and food was good. Rooms are large and very clean. Everyone felt genuinely interested in making your stay nice. Dilip ji and team is always there to help, overall great experience.
Curiosity279804
2023-04-27
A great get away. Amazing property. The food and hospitality of all the people here is amazing. They try their level best to full-fill all your needs. I traveled with 2 kids and all their food wishes were fulfilled. The folk song, star gazing and pottery making are great experiences that the resort offers. One highlight is the fauna and amazing set of birds that surround it. I saw hummingbirds and king fisher just to mention a few. The best part of the resort are the people. Mr Dilip and his crew are amazing and very hospitable. I felt like a royal family, thank you for great hospitality The Kipling Lodge.
Perfect and beautiful stay for family I stayed at this resort recently and had an experience beyond my expectations. The beautiful property and a team of super courteous staff was the highlight. We went on a busy weekend, and the staff was extremely occupied with a fully booked resort, yet they were always available for all of our requests and requirements.The property itself is so pretty and huge, you'll need atleast a day to soak it in complete, and there are ample of activities to do there like pottery, star gazing etc. Do contact the front desk or Mr. Tarun (GM of the property) for the same. Ms Sangeeta is omnipresent on the property and can help you with any requirements.Coming to food, we had so many different dishes in every meal and each one of them stood out fabulously. The best part is that there are plenty options in veg and nonveg and they taste equally good! Do ask for the chef, he takes your inputs and provides exactly what you want.Pros:- beautiful property- various family activities - tasty food, vide variety- aesthetic and luxurious rooms- properly maintained large pool- courteous staff- over the top service- value for moneyCons:NONE
Trek14195743911
2023-04-26
A luxurious getaway in Ranthambore The day we reached the resort, the staff welcomed us with the amazingly refreshing welcome drinks and the whole was available for us 24/7 till the time we checked out. A very special thanks to Mr. Tarun and Mr. Dilip for their hospitality ; Mr. Sumer (chef) who served very delicious and exotic food to us. ; Ms. Sangeeta who made our stay very enjoyable and served us hot and delicious appetizers and drinks andlast but not the least to Mr. Balram for being available at every moment and making out stay so relaxing.The ambience was simply outstanding. From the moment I stepped foot on the property, I felt transported to a place of serenity and relaxation.The resort's grounds were impeccably maintained and beautifully landscaped, with lush gardens, winding paths, and water features that created a peaceful atmosphere. The gentle breeze that flowed through the grounds carried the scents of flowers and greenery, making for an invigorating sensory experience.The resort had a very tradional vibe with the rajasthani folk song songs and dance. The guest rooms were also a delight to stay in, with comfortable beds, high-quality linens, and tasteful decor that created a cozy, inviting atmosphere. The balconies and terraces offered breathtaking views of the surrounding landscape, and the sounds of nature made for a peaceful, restful sleep. We also went to the ranthambore national park and saw extremely healthy tigers and crocodiles and alligators in the river safari which gave us immense pleasure and joy. It is a must visit place for spending a luxurious and stressful vacation on the grounds of Rajasthan and exploring it's unseen traditions and culture.
Roving22873576548
2023-04-26
Excellent and Stupendous Experience Got the opportunity to visit this wonderful land of India's pride Tigers. Keeping in mind the humidity and hot temperature of Rajasthan I had to plan my stay wisely, that's where this another amazing place in Ranthambore helped me : The Kipling Lodge. It's cult yet soothing atmosphere made my stay in Ranthambore even more delightful. The rooms and the food was top class, and other amenities like swimming pool , star gazing, pottery kept me engaged within the resort too apart from main Safari thing.Special mention to Mr. Tarun Sir , Dilip Sir , Chef Sumer and Miss Sangeeta whose outstanding hospitality made me write this special review. Thanks u guys. A must visit destination and a must visit one of a kind resort.
Here at Nature Kalp, with our two breathtaking properties, we offer a unique experience that celebrates the beauty of the great outdoors.
So,  Immerse yourself in a nature-loving environment, surrounded by lush greenery, serene landscapes, and the soothing melodies of chirping birds. Our thoughtfully designed accommodations blend seamlessly with the surroundings, offering a harmonious blend of comfort and rustic charm. Whether you seek adventure, relaxation, or simply a serene escape, Nature Kalp is a haven where you can reconnect with nature and create cherished memories.